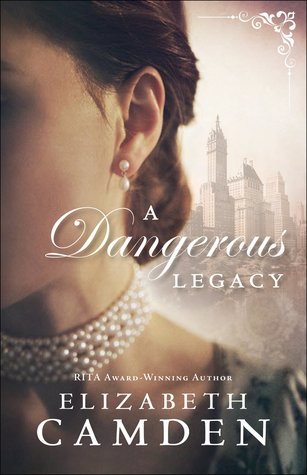 Lucy Drake's mastery of Morse code has made her a valuable asset to the American news agencies as a telegrapher. But the sudden arrival of Sir Colin Beckwith at rival British news agency Reuters puts her hard-earned livelihood at risk. Newly arrived from London, Colin is talented, handsome, and insufferably charming.
Despite their rivalry, Lucy realizes Colin's connections could be just what her family needs to turn the tide of their long legal battle over the fortune they were swindled out of forty years ago. When she negotiates an unlikely alliance with him, neither of them realizes how far the web of treachery they're wading into will take them.

The latest release from Elizabeth Camden,
A Dangerous Legacy
delivers a fascinating premise, likeable characters who banter well, well-researched historical detail, conspiracy and danger, romance… The list could keep going, and I enjoyed it all. Camden tells an entertaining and delightful story, starting her new Empire State series well, and I definitely look forward to continuing it. It's a great historical romance that will not disappoint Elizabeth Camden's fans or readers of the genre, and I recommend taking the time to check it out.
Thanks to Bethany House, I received a complimentary copy of
A Dangerous Legacy
and the opportunity to provide an honest review. I was not required to write a positive review, and all the opinions I have expressed are my own.