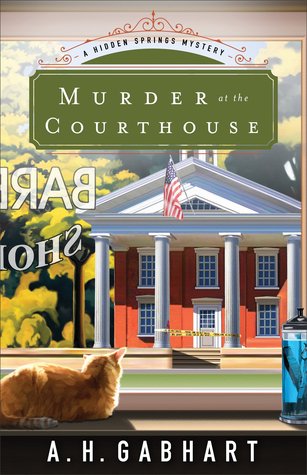 ★★★★★
Welcome to Hidden Springs
Pop.
732
731
Michael Keane's stressful days as a Columbus police officer are done. He's ready to relax into his new position as deputy sheriff in his sleepy hometown. Nothing ever happens in Hidden Springs, Kentucky – and that's just fine with Michael.
Nothing, that is, until a dead body is discovered on the courthouse steps. As Michael works to solve the case, it seems that every nosy resident in town has a theory. When the sheriff insists Michael check out one of these harebrained theories, his surprising discovery sends him on a bewildering search for a mysterious killer that has him questioning everything he has ever believed about life in Hidden Springs.
Bringing with her a knack for creating settings you want to visit and an uncanny ability to bring characters to life, A. H. Gabhart pens a whodunit
that will keep you guessing.
Murder at the Courthouse by A.H. Gabhart begins the Hidden Springs Mystery series with a solid cozy mystery. In the small town of Hidden Springs, Michael Keane settles into his new position as deputy sheriff, expecting nothing too exciting to happen. Then, a body is found on the courthouse steps and keeps Michael busy - and guessing. Following the mystery as Michael worked to solve it kept me intrigued and eager to find out what happened. A thoroughly satisfying mystery, Murder at the Courthouse offers a worthwhile read to fans of the genre and I would recommend it. I can't wait to see what Gabhart has in store next with Murder Comes by Mail.
Thanks to Revell Reads, I received a copy of
Murder at the Courthouse
and the opportunity to provide an honest review. I was not required to write a positive review, and all the opinions I have expressed are my own.
A. H. Gabhart
is Ann H. Gabhart, bestselling author of many novel
s, including
Angel Sister
,
Small Town Girl
and
Love Comes Home
, and several popular
Shaker
novels such as
The Outsider
,
The Believer
and
The Innocent
. Ann grew up in a small rural town in Kentucky much like Hidden Springs, but she is happy to report nobody was ever murdered on her hometown's courthouse steps. Ann and her husband still live on a farm near that same little town in Kentucky. Learn more at her
website
.