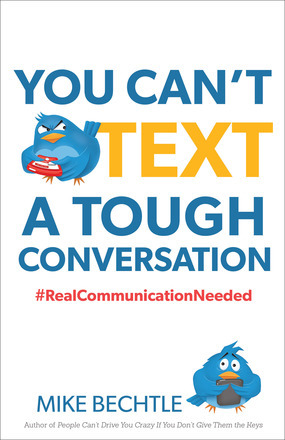 ★★★★
✩
When it comes to the tough stuff, we need real, face-to-face conversations. But have we lost the art?
There's no denying that as our use of technology has increased, our communication skills have decreased. Technology creates the illusion of being in touch, but we lose the deeper meaning conveyed by body language, facial expression, and tone of voice. We text when we should talk. We tweet firings and breakups. We vent our frustrations with other people online. Whether it's with a spouse, a friend, a boss, a co-worker, or children, those tough conversations create high anxiety. In the end, what we have are broken relationships and hurt feelings.
In this timely book, communication expert Mike Bechtle shows you how to build strong relationships, offering tried-and-true methods to navigate the muddy waters of having tough conversations – in person. With his help, you'll learn to be a better listener, give and receive genuine feedback, saturate your relationships with kindness, and much more – so that you'll feel confident w
hen it comes time to actually talk
.
In his new book, You Can't Text a Tough Conversation, Mike Bechtle addresses big topics of relationships, communication, and technology with beneficial insight. In a time when a lot of communication occurs via technology, reminders of how to effectively build strong relationships and hold tough conversations face-to-face are always important and valuable. Easy to understand and put into practice, You Can't Text a Tough Conversation offers any reader a generally good and helpful read - I would recommend it.
Thanks to Revell Reads, I received a copy of
You Can't Text a Tough Conversation
and the opportunity to provide an honest review. I was not required to write a positive review, and all the opinions I have expressed are my own.