Welcome to The Lost Girl of Astor Street clue hunt!
To celebrate The Lost Girl of Astor Street's release day, author Stephanie Morrill is hosting this clue hunt and giving away three signed copies of the book. The hunt begins on Morrill's website, but if you're ready for Clue #4 now, keep reading

—

you'll find it near the end of this post. Enjoy!
ABOUT THE BOOK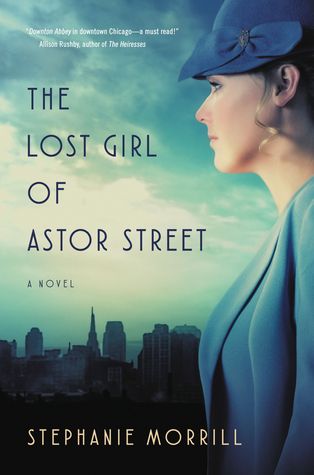 When her best friend vanishes without so much as a good-bye, eighteen-year-old Piper Sail takes on the role of amateur sleuth in an attempt to solve the mystery of Lydia's disappearance. Given that Piper's tendency has always been to butt heads with high-society's expectations of her, it's no surprise that she doesn't give a second thought to searching for answers to Lydia's
abduction from their privileged neighborhood.
As Piper discovers that those answers might stem from the corruption strangling 1924 Chicago—and quite possibly lead back to the doors of her affluent neighborhood—she must decide how deep she's willing to dig, how much she should reveal, and if she's willing to risk her life of privilege for the sake of the truth.
Perfect for fans of Libba Bray and Anna Godbersen, Stephanie Morrill's atmospheric jazz-age mystery will take readers from the glitzy homes of the elite to the dark underbelly of 1920s Chicago.
Goodreads
|
Amazon
|
Barnes & Noble
|
Christianbook.com
Read an excerpt.
Secrets, mystery, corruption, romance… With a fast-paced, page-turning story and well-crafted, realistic characters,
The Lost Girl of Astor Street
swept me into the exquisite and gritty world of 1920s Chicago and intrigued me to the end. I couldn't be happier with the experience of reading this book.
Through all of
The Lost Girl of Astor Street
, narrator Piper Sail absolutely shines. Clever, spirited, and unwilling to conform strictly to society's expectations, she's easy to admire in her determination to find her best friend. Regardless of the danger, she pursues the truth—with friends to support her—and proves to be quite strong and capable, even as she has moments of doubt.
As I cheered Piper through surprising twists and turns, Stephanie Morrill does a superb job unveiling the complexities of the mystery. In an effort to avoid spoilers, I'll simply describe it as misleading, unexpected, and completely satisfying—and I loved it.
Without a doubt,
The Lost Girl of Astor Street
is a novel worth reading. Perfect for readers of historical mysteries and/or fans of the Twenties and
Veronica Mars
-type sleuthing, it's easy to recommend again and again. Read it!
Thanks to Stephanie Morrill and Blink YA Books, I received a complimentary copy of
The Lost Girl of Astor Street
and the opportunity to provide an honest review. I was not required to write a positive review, and all the opinions I have expressed are my own.
ABOUT THE AUTHOR


Stephanie Morrill is the creator of GoTeenWriters.com and the author of several young adult novels, including the historical mystery, The Lost Girl of Astor Street. Despite loving cloche hats and drop-waist dresses, Stephanie would have been a terrible flapper because she can't do the Charleston and looks awful with bobbed hair. She and her near-constant ponytail live in Kansas City with her husband and three kids.
disappearance
WHERE TO FIND OTHER CLUES