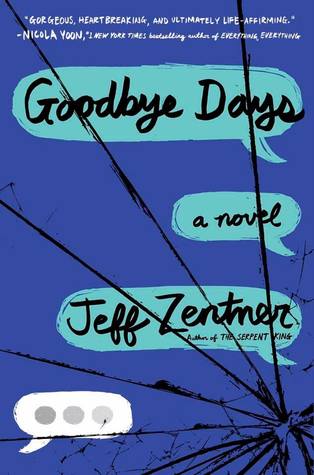 "Gorgeous, heartbreaking, and ultimately life-affirming." —Nicola Yoon, #1 New York Times bestselling author of Everything, Everything.
Perfect for fans of Looking for Alaska and Zentner's own The Serpent King, one of the most highly acclaimed YA novels of 2016, Goodbye Days asks what you would do if you could spend one last day with someone you lost.
Where are you guys? Text me back. That's the last message Carver Briggs will ever send his three best friends, Mars, Eli, and Blake. He never thought that it would lead to their death.
Now Carver can't stop blaming himself for the accident and even worse, a powerful judge is pressuring the district attorney to open up a criminal investigation.
Luckily, Carver has some unexpected allies: Eli's girlfriend, the only person to stand by him at school; Dr. Mendez, his new therapist; and Blake's grandmother, who asks Carver to spend a "goodbye day" together to share their memories and say a proper farewell.
Soon the other families are asking for their own goodbye day with Carver—but he's unsure of their motives. Will they all be able to make peace with their losses, or will these goodbye days bring Carver one step closer to a complete breakdown or—even worse—prison?
"Jeff Zentner, you perfectly fill the John-Green-sized hole in our heart."
"Evocative, heartbreaking, and beautifully written." —Buzzfeed
"Masterful." —TeenVogue.com
"Hold on to your heart: this book will wreck you, fix you, and most definitely change you." —Becky Albertalli, Morris Award-winning author of Simon vs. the Homo Sapiens Agenda
Goodbye Day
is as emotionally gripping as Jeff Zentner's debut novel
The Serpent King
. (Or, perhaps, even more so.) With masterful storytelling and thoughtful character-building, Zentner tells a beautiful story of grief and guilt, coupled with friendship, healing, and hope, as Carver Briggs processes the loss of his friends and all the challenging aftermath. It's complex and realistic and so, so good.
Goodbye Days
is must-read for readers of contemporary YA fiction, and I highly recommend it.
Thanks to Blogging for Books, I received a complimentary copy of
Goodbye Days
and the opportunity to provide an honest review. I was not required to write a positive review, and all the opinions I have expressed are my own.