Happy Friday (and February)!
I've been enjoying the adventure of The Mayflower Bride by Kimberley Woodhouse recently (and conveniently, it's one of the shorter books I've read this week, so it works for the "Little Month, Little Story" theme for Hoarding Books today!).
Here's a quick peek at a few lines from it.
First Line: A splinter of wood pierced Mary Elizabeth Chapman's thumb as she crept behind her lifelong friend Dorothy Raynsford.

From Page 56: It would be weeks before he'd get to see her again, and even then, he wasn't worthy of her attention. Especially since her whole reason for the trip revolved around her faith. Faith which William didn't understand.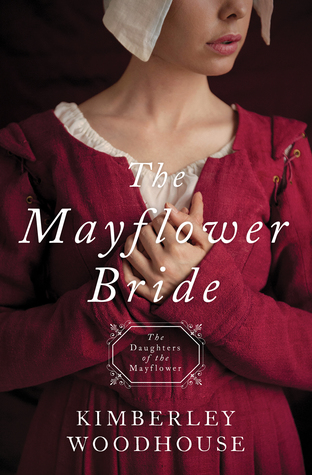 A brand new series for fans of all things related to history, romance, adventure, faith, and family trees.

Mary Chapman boards the Speedwell in 1620 as a Separatist seeking a better life in the New World. William Lytton embarks on the Mayflower as a carpenter looking for opportunities to succeed—and he may have found one when a man from the Virginia Company offers William a hefty sum to keep a stealth eye on company interests in the new colony. The season is far too late for good sailing and storms rage, but reaching land is no better as food is scarce and the people are weak. Will Mary survive to face the spring planting and unknown natives? Will William be branded a traitor and expelled?

Join the adventure as the Daughters of the Mayflower series begins with The Mayflower Bride by Kimberley Woodhouse.

More to come in the Daughters of the Mayflower series:
The Pirate Bride by Kathleen Y'Barbo: set 1725 New Orleans (coming April 2018)
The Captured Bride by Michelle Griep: set 1760 during the French and Indian War (coming June 2018)
N
ow, feel free to leave a line from a book near you in the comments below.
And be sure to stop by
Hoarding Books
and
Freda's Voice
for a peek into other books.