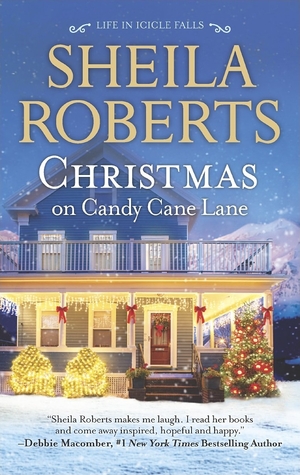 ★★★★★
Everyone's getting ready for Christmas in Icicle Falls, especially on

Candy

Cane

Lane, where holiday decorating is taken very seriously. Tilda Morrison, town cop, is looking forward to celebrating Christmas in her first house…until she discovers that she's expected to "keep up" with the neighbors, including Maddy Donaldson, the inspiration behind the whole extravaganza. But this year, someone's destroying Maddie's precious

candy

canes

! Thank goodness for the cop in their neighborhood.
Tilda already has her hands full trying to sort out her love life and fix up her fixer-upper. Oh, and won't it be fun to have the family over for Christmas dinner? Not really… Then there's her neighbor, Ivy Bohn. As a newly single mom, Ivy can sum up the holiday in two words: Bah, humbug. But she's determined to give her kids a perfect Christmas.
Despite family disasters, irritating ex-husbands and kitchen catastrophes, these three women are going to find out that Christmas really is the most wonderful time of the year!
The eighth book of Sheila Roberts' Life in Icicle Falls, Christmas on Candy Cane Lane offers a heartwarming read for series' long-time fans and newcomers alike. This book focuses on three women in Icicle Falls during the hectic holiday season. As each figures out complications of love, neighbors, and holiday spirit, I found myself alternating between smiling, groaning, and wanting to knock some sense into the characters (like I did in my previous trip to Icicle Falls, The Tea Shop on Lavender Lane) and enjoyed every bit of it. All in all, Christmas on Candy Cane Lane tells a delightful story for the upcoming holiday season, and readers of contemporary romance will not want to miss this return to Icicle Falls.
Thanks to Pump Up Your Book, I received a copy of
Christmas on Candy Cane Lane
and the opportunity to provide an honest review. I was not required to write a positive review, and all the opinions I have expressed are my own.
§
Christmas on Candy Cane Lane is available at

Amazon

.
§
Discuss this book at PUYB Virtual Book Club at

Goodreads

.
Sheila Roberts lives on a lake in the Pacific Northwest. She's happily married and has three children. She's been writing since 1989, but she did lots of things before settling in to her writing career, including owning a singing telegram company and playing in a band. Her band days are over, but she still enjoys writing songs. Sheila's books are best sellers and often appear as Reader's Digest Condensed Books. Her novel Angel Lane was named one of Amazon's top ten romances in 2009. Her novel On Strike for Christmas was a Lifetime Network movie and her novel The Nine Lives of Christmas is now a Hallmark movie, scheduled to air November 8th.
When she's not speaking to women's groups or at conferences or hanging out with her girlfriends she can be found writing about those things near and dear to women's hearts: family, friends, and chocolate.