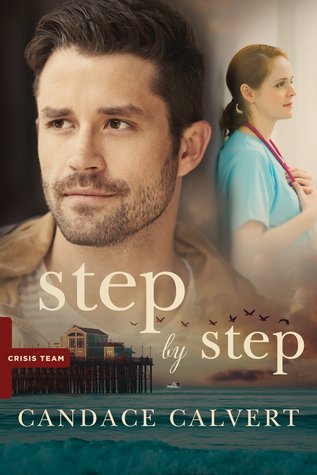 ★★★★★
Three years after a tragic accident left her a widow, ER nurse Taylor Cabot is determined to move on, checking off one item after another on her survival list. Her relationship with a handsome plastic surgeon even gives her hope for the last point – "fall in love again." At least until crisis chaplain Seth Donovan steps back into her life, reawakening unanswered questions about her husband's death.


While in San Diego to train community volunteers, Seth hopes to learn why Taylor is backing away from the crisis team and from their friendship. But nothing prepares him for the feelings that arise when he sees Taylor again… and sees her moving on with another man.

When a community crisis hits home and puts lives at risk, emotions run high and buried truths are unearthed. Will hope make the survival list?
In Step by Step, the second book in Candace Calvert's Crisis Team series, Taylor Cabot and Seth Donavan, who both made appearances in By Your Side, become the main characters. Now, with their own storylines, they have second chances for romance while dealing with the grief and guilt of the past, in addition to plenty of dramatic crises and medical emergencies. This novel is fast-paced and full of action, drama, romance, and bits of humor, as Taylor and Seth learn valuable spiritual lessons for the future. Fans of Calvert's books will not want to miss this latest one - I recommend it.
Thanks to Tyndale BlogNetwork, I received a copy of
Step by Step
and the opportunity to provide an honest review. I was not required to write a positive review, and all the opinions I have expressed are my own.
Q&A with the Author
1. This is the second installment in your latest trilogy, the Crisis Team series. What is the background on this series?
The Crisis Team series, set in my native California, offers exciting medical scenarios within the fictional Hope medical system, and features the selfless and compassionate work of volunteer community chaplains—true heroes.
2. How do you expect this series to resonate with your audience? What are you most excited for your readers to experience through reading these novels?
I have found, almost universally, that most of my readers weren't aware of the vital work done by crisis responders (chaplains). It's an honor to feature these dedicated volunteers and puts an intriguing new slant on my exciting and highly emotional medical fiction. I also think it adds to the element of hope for my readers, to know that these teams are "out there" in real life.
3. Crisis teams are becoming increasingly vital and active in the world today. How would you describe their role, and how can we learn more?
Crisis responders are volunteers from all walks of life, trained to assist survivors of tragedy, whether it be from a major disaster (weather related catastrophes, fires, bombings, mass shootings, etc.) or of a more personal nature like the sudden death of a loved one from a heart attack, accident, suicide, homicide, sudden infant death, or other unexpected cause. These volunteers work alongside other rescue personnel (fire, police, rescue) offering support, a compassionate ear, and resources to folks trying to cope in the wake of an incident that will forever change their lives. Crisis responders have been referred to as "emotional paramedics," and I think that says it well. In creating my stories, I'm grateful for the assistance of U.S. Crisis Care. Here is a link: U.S. Crisis Care