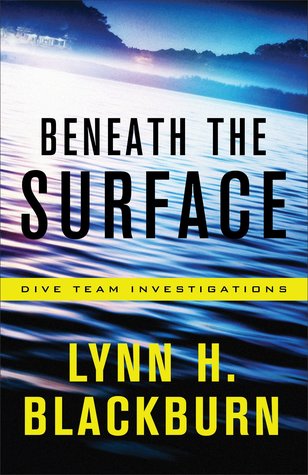 After a harrowing experience with an obsessed patient, oncology nurse practitioner Leigh Weston needed a change. She thought she'd left her troubles behind when she moved home to Carrington, North Carolina, and took a job in the emergency department of the local hospital. But when someone tampers with her brakes, she fears the past has chased her into the present. She reaches out to her high school friend turned homicide investigator, Ryan Parker, for help.
Ryan finds satisfaction in his career, but his favorite way to use his skills is as a volunteer underwater investigator with the Carrington County Sheriff's Office dive team. When the body of a wealthy businessman is discovered in Lake Porter, the investigation uncovers a possible serial killer
—
one with a terrifying connection to Leigh Weston and deadly implications for them all.
Dive into the depths of fear with an exciting new voice in romantic suspense. Award-winning author Lynn H. Blackburn grabs readers by the throat and doesn't let go until the final heart-pounding page.
Publisher: Revell
Release Date: March 6, 2018
Here's a quick playlist of songs that remind me of Beneath the Surface. While compiling it, I focused on three elements of the story: the mystery, the romance, and the faith. Take a listen and enjoy!
The Mystery
In the opening pages of Beneath the Surface, Ryan Parker and his dive buddies discover a body at the bottom of the lake. Then, to make matters more complicated, Leigh Weston begins to receive dangerous, stalker-like attention. Are the two connected? The closer Ryan, Leigh, and their friends get to the truth behind these unsettling occurrences, the more surprising the investigation becomes.
"Dive" by Stephen Curtis Chapman
"Somebody's Watching Me" by Rockwell
"We Were Giants" by House of Heroes
The Romance
Growing up, Leigh and Ryan crushed on each other, but never shared their feelings. Now, with Leigh recently returned to their hometown, they have the opportunity to spend significant time together and discover their romantic potential
—
albeit under less than ideal circumstances. Through the twists and turns of the investigation, does their love stand a chance?
"18" by One Direction
"Who Says You Can't Go Home" by Bon Jovi & Jennifer Nettles
"She's With Me" by High Valley
"Up and Up" by Relient K
The Faith
The past few years presented Leigh with a number of challenges, and as a result, she neglected her faith. Yet, continuing to face events that threaten her life pushes her to consider a new perspective. Can she (and Ryan, too) learn to trust God through it all
—
with
her questions, her uncertainties, and even her safety?
"Shoulders" by For King & Country
"Trust in You" by Lauren Daigle
"Great Is Thy Faithfulness" by Shane & Shane
ABOUT THE AUTHOR
Lynn H. Blackburn is the author of Hidden Legacy (Love Inspired, June 2017) and Covert Justice, winner of the 2016 Selah Award for Mystery and Suspense and the 2016 Carol Award for Short Novel. Blackburn believes in the power of stories, especially those that remind us that true love exists, a gift from the Truest Love. She's passionate about CrossFit, coffee, and chocolate (don't make her choose) and experimenting with recipes that feed both body and soul. She lives in Simpsonville, South Carolina, with her true love, Brian, and their three children.