ABOUT THE BOOK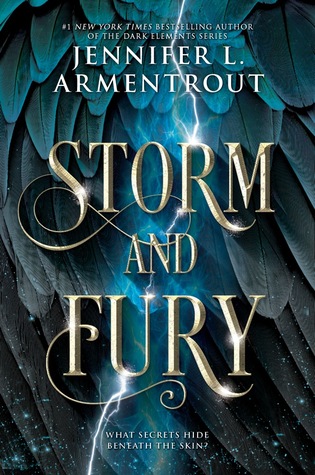 From the #1 New York Times, USA Today and internationally bestselling author of the fantastical Dark Elements and the Lux series comes a new novel set in a world of gargoyle protectors, rising demons and one girl with an explosive secret.
Eighteen-year-old Trinity Marrow may be going blind, but she can see and communicate with ghosts and spirits. Her unique gift is part of a secret so dangerous that she's been in hiding for years in an isolated compound fiercely guarded by Wardens—gargoyle shape-shifters who protect humankind from demons. If the demons discover the truth about Trinity, they'll devour her, flesh and bone, to enhance their own powers.
When Wardens from another clan arrive with disturbing reports that something out there is killing both demons and Wardens, Trinity's safe world implodes. Not the least because one of the outsiders is the most annoying and fascinating person she's ever met. Zayne has secrets of his own that will upend her world yet again—but working together becomes imperative once demons breach the compound and Trinity's secret comes to light. To save her family and maybe the world, she'll have to put her trust in Zayne. But all bets are off as a supernatural war is unleashed…
Publisher: Inkyard Press
Release Date: June 11, 2019
MY REVIEW
From the start, the mention of gargoyles in
Storm and Fury
's blurb had me intrigued. I don't often read paranormal books, but given my only experience with gargoyles is Disney's
The Hunchback of Notre Dame
, I had to know what Jennifer L. Armentrout would do in her story.
With her special ability to communicate with ghosts and spirits, Trinity Marrow must be protected by gargoyle shape-shifters. However, news soon arrives about a danger that threatens Trinity's safety. In a whirlwind of action, flirty banter, dramatic twists, and fascinating world-building, the subsequent story unfolds, and it is a whole lot of fun.
Storm and Fury
is a spin-off of Armentrout's The Dark Elements series. Though I have not read those books, I still could easily enjoy this one—but I imagine there are cameos and references that will make the reading experience for fans even better.
I received a complimentary copy of this book and the opportunity to provide an honest review. I was not required to write a positive review, and all the opinions I have expressed are my own.
ABOUT THE AUTHOR
# 1 New York Times and USA Today bestselling author Jennifer L. Armentrout lives in Martinsburg, West Virginia with her husband and her Jack Russell, Loki. Jennifer writes young adult paranormal, science fiction, fantasy, and contemporary romance. She also writes adult and New Adult romance under the name J. Lynn.


GIVEAWAY
TOUR SCHEDULE