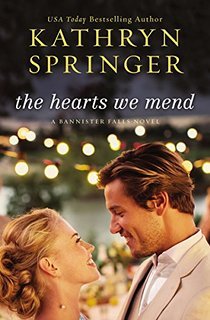 ★★★★★
For young widow Evie Bennett, moving forward will mean deciding what to leave behind... and what to keep.
Widowed at the age of twenty-five when her firefighter husband was killed in the line of duty, Evie Bennett has spent the last thirteen years raising their son, Cody, in the close-knit community of Banister Falls. As the women's ministry director of her church, Evie encourages women to boldly pursue God's plan for their future...while she is content with her memories of the past. But Evie's well-ordered life begins to change when she meets Jack Vale.
As Evie gets drawn into Jack's world-a world that isn't as safe and predictable as the one she's worked so hard to create-he challenges her to open her eyes to the problems in the community... but will Evie open her

heart

to love again?
Because even though Jack isn't anything like her late husband, he just might be everything she needs.


Review to
The Hearts We Mend
is a perfect follow-up novel to
The Dandelion Field
. Kathryn Springer returns her readers to the town of Banister Falls and gives Evie Bennett a much-needed second chance. I'll admit, I was not her biggest fan for a majority of
The Dandelion Field
, but the more I read of
The Hearts We Mend
, the more I grew to love and enjoy her as a character.
When she meets the attractive, generous, and resourceful Jack Vale by surprise, Evie's carefully constructed and comfortable world begins to change. She spent over a decade protecting herself and her heart in the wake of her firefighter husband's death and now, Jack challenges her to step out of her comfort zone. Throughout the book, the interactions between Jack and Evie are endearing, their romance is sweet and heartwarming, and their spiritual growth through fear and insecurity is encouraging. I absolutely loved
The Hearts We Mend
and would heartily recommend it to readers of contemporary fiction. It's worth it!
Thanks to LitFuse Publicity Group, I received a copy of
The Hearts We Mend
and the opportunity to provide an honest review. I was not required to write a positive review, and all the opinions I have expressed are my own. To read other opinions, be sure to check out what other reviewers think here, and purchase a copy of the book here.
Kathryn Springer is a full-time writer and the award-winning author of Front Porch Princess. She won the ACFW 2009 Book of the Year award for Family Treasures. Her most recent book, The Soldier's Newfound Family, hit the New York Times best-seller list in November 2012. Kathryn grew up in northern Wisconsin, where her parents published a weekly newspaper. As a child she spent many hours sitting at her mother's typewriter, plunking out stories, and credits her parents for instilling in her a love of books-which eventually turned into a desire to tell stories of her own. Kathryn has written 19 books with close to two million copies sold. She lives with her husband and three children in Marinette, Wisconsin.
Find Kathryn online at her website and Facebook.