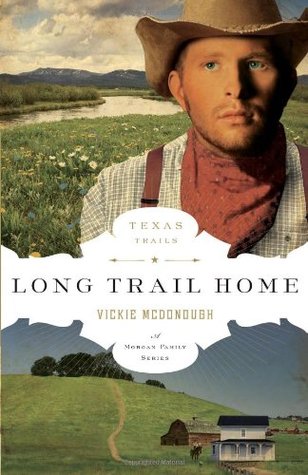 ★★★★★
When Riley Morgan returns home after fighting in the War Between the States, he is excited to see his parents and fiancée again. But he soon learns that his parents are dead and the woman he loved is married. He takes a job at the Wilcox School for the blind just to get by. He keeps his heart closed off but a pretty blind woman, Annie, threatens to steal it. When a greedy man tries to close the school, Riley and Annie band together to fight him and fall in love. But when Riley learns the truth about Annie, he packs and prepares to leave the school that has become his home and the woman who has thawed his heart. Will he change his mind and find the love he craves? Or will stubbornness deprive him from the woman he needs? Through painful circumstances, Riley and Annie learn that the loving and sovereign hand of God cannot be thwarted.
Following Darlene Franklin's and Susan Page Davis' contributions to the Texas Trails series (respectively, Lone Star Trail and Captive Trail), Vickie McDonough successfully adds Long Trail Home. Telling the story of Riley Morgan as he returns from war and changing the scenery a bit by taking place in the town of Waco, Texas, this novel is equally as enjoyable as the previous two novels. As the characters learn to embrace the possibilities of the future, despite the hardships of the past, the story proves to be romantic and encouraging with a touch of suspense. It's a great read for fans of the Texas Trails series (though could easily be read on its own), and now, I look forward to reading the next novel, A Ranger's Trail.
Thanks to Moody Publishers, I received a copy of
Long Trail Home
and the opportunity to provide an honest review. I was not required to write a positive review, and all the opinions I have expressed are my own.