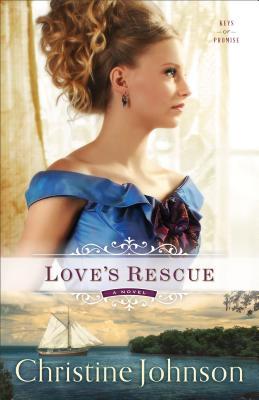 ★★★★★
Can a girl enamored with the adventurous seas ever be content with the tame life of a Southern belle?


When her mother dies, Elizabeth Benjamin heads home to Key West, determined to transform herself into the perfect Southern belle her parents always wished her to be. But nothing goes according to plan. Her brother resents her, the servants do not obey her, and Rourke O'Malley, the dashing man she vowed to forget, refuses to relinquish his hold on her heart. Worst of all, it becomes painfully obvious that her father is not the man he appears to be.

As family secrets come to light, Elizabeth is faced with a difficult choice: to perform her duty and abandon her dreams, or to leave her life of privilege behind to chase the man her father sees as little better than a pirate.

From the first emotional page, author Christine Johnson throws you into a world of impossible choices, hidden desires, and heart-melting romance in the steamy South.
The first book I've had the chance to read by Christine Johnson, Love's Rescue delighted me with its captivatingly historical tale. The storyline contains a diverse and interesting cast of characters amidst plenty of romance, betrayal, suspense and faith, and with plenty of twists and turns to keep me guessing and turning pages, I just couldn't put this book down. A thoroughly enjoyable and satisfying novel, Love's Rescue has me looking forward to reading more from Christine Johnson in the future. Fans of historical romance will not want to miss this read - it's a good one.
Thanks to Revell Reads, I received a copy of
Love's Rescue
and the opportunity to provide an honest review. I was not required to write a positive review, and all the opinions I have expressed are my own.
Christine Johnson
is the author of several books for Steeple Hill and Love Inspired and has been twice named a finalist for Romance Writers of America's Golden Heart award. When not writing, she loves to hike and explore God's majestic creation. She and her husband, a Great Lakes ship pilot, split their time between northern Michigan and the Florida Keys. Learn more at

her website.