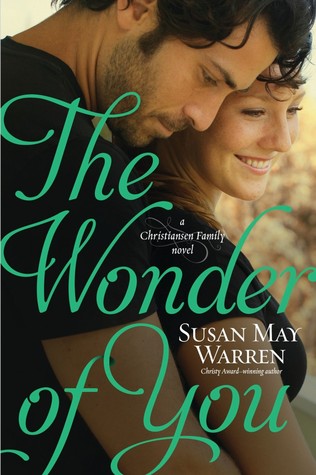 ★★★★★
Mortified after her semester abroad is cut short, Amelia Christiansen returns to Deep Haven, certain she isn't brave enough for the adventures she's dreamed of. The last thing she expects is for the man who broke her heart to cross the Atlantic and beg forgiveness.


Heir to a European hotel dynasty, Roark St. John has trekked from one exotic locale to another, haunted by tragedy and the expectations that accompany his last name. Amelia is the first woman to give him a reason to stop running. He'll do anything for a second chance – even contend with Amelia's old flame, who is intent on sending Roark packing.

While one surprise after another leaves Amelia reeling, Roark's continued presence only highlights the questions pursuing her. Like him, is she running from the life God has called her to? Could finding her new place mean leaving home behind?
Each novel about Susan May Warren's Christiansen family has me falling more and more in love with this fictional family, and I absolutely love it. The most recent addition to the series, The Wonder of You, gives Amelia Christiansen, the baby of the family, her chance break free from her family's hovering and experience her own Deep Haven romance. After suddenly returning from her time abroad, Amelia quickly becomes the center of a love triangle and must determine what God plans for her future in order to decide which man deserves her heart. Warren writes the love-triangle scenario well, with two quality male characters, and doesn't make the choice easy for Amelia by showing one man to be an obviously bad choice. I was so glad to see Amelia make the decision on her own in the end, relying on God to guide her, and within her decision-making process, I thoroughly enjoyed getting to understand her as a character more fully. Overall, The Wonder of You is a wonderful read, and any fan of the Christiansen family will not want to miss this delightful romance - I highly, highly recommend it.
Thanks to Tyndale BlogNetwork, I received a copy of
The Wonder of You
and the opportunity to provide an honest review. I was not required to write a positive review, and all the opinions I have expressed are my own.