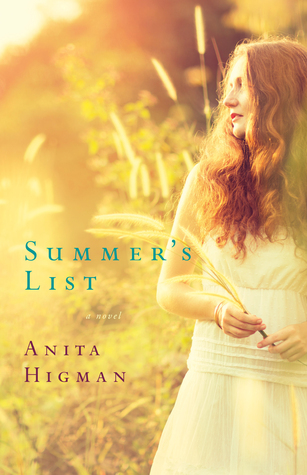 ★★★★★
A dying wish alters the course of a young woman's life.
Life hadn't been easy for Summer Snow. In acts of selflessness – caring for her ailing parents and running her grandmother's bookstore – she had forfeited her youth and dreams for the needs of others. And the only tries she had at love… didn't turn out. She had the bookstore, she had her beloved granny, but she was missing something – or someone.
Opportunity strikes when Granny sends Summer on an unexpected adventure with one Martin Langtree, a kind but gangly young man from Summer's past. A childhood friendship is rekindled, a romance is sparked, and mysteries are solved in one magical Texas summer. Will Summer strike out on love again, or will things finally go her way?
Anita Higman's newest novel, Summer's List, is quite a delight to read. When Summer Snow receives the news that her beloved grandmother is dying and wishes her to complete a list of activities, she hesitantly embarks on the adventure set before her - beginning with a reunion with a long-lost friend, Martin Langtree. The adventure continues from there with plenty of friendship, family, faith and naturally, romance. I thoroughly enjoyed the experience of Summer's List - it's an all-around cute and heartwarming read. Fans of contemporary romance should consider picking up this novel by Anita Higman when looking for a new book to read.
Thanks to LitFuse Publicity Group, I received a copy of
Summer's List
and the opportunity to provide an honest review. I was not required to write a positive review, and all the opinions I have expressed are my own. To read other opinions, be sure to check out what other reviewers think
here
, and purchase a copy of the book
here
.
Best-selling and award-winning author, Anita Higman, has over thirty books published (several coauthored) for adults and children. She's been a Barnes & Noble "Author of the Month" for Houston and has a BA in the combined fields of speech communication, psychology, and art.
Anita loves good movies, exotic teas, and brunch with her friends.