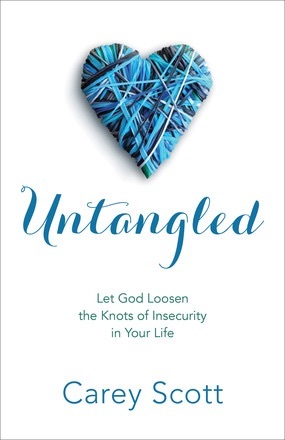 ★★★★★
Think you'll never measure up? Think again.
We all want to feel valued. We crave approval and acceptance in the eyes of family, friends, and even strangers. But when we seek confirmation that we are

enough
using the world's standards, it seems like we always fall short. As a result, we cannot believe we are who God says we are – accepted, loved, beautiful, and treasured.
With hope-filled writing and plenty of hard-won personal advice, Carey Scott teaches you how to untangle your self-esteem from the world and anchor it in Jesus. She lovingly shows you that God was intentional in how he made you – and that he is pleased with his work. You'll learn practical strategies to escape the unattainable standards of our performance-based world. And you'll find comfort in the fact that you are not alone on the journey.
In Untangled: Let God Loosen the Knots of Insecurity in Your Life, Carey Scott addresses the common issues of insecurity,which often leave the heart in a tangled mess. Scott uses humor mixed with honesty and vulnerability to compose this relatable and accessible book and fills it with her experiences and practical, learned lessons. An all-around helpful and worthwhile read, Untangled offered me valuable reminders to look to God for freedom from insecurity and could easily be as beneficial for any woman. I recommend it.
Thanks to Revell Reads, I received a copy of
Untangled
and the opportunity to provide an honest review. I was not required to write a positive review, and all the opinions I have expressed are my own.
Carey Scott
is an author, speaker, and certified Bible life coach who challenges women to be real – not perfect – even when real is messy. She speaks to women's groups and writes an online devotional designed to help women be who God created them to be. She lives in Colorado with her husband and their two children.