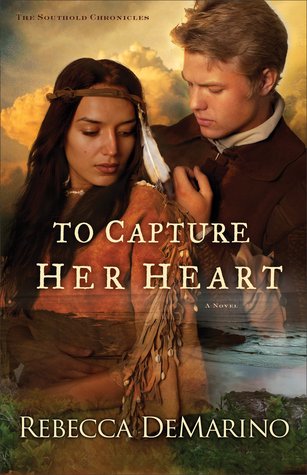 ★★★★
✩
In an uncertain time, she faces a choice that will change her life forever.


It is 1653 and Heather Flower, a princess of the Montaukett tribe, is celebrating her wedding feast when a rival tribe attacks, killing the groom and kidnapping her. Though her ransom is paid by an Englishman, she is bound by her captors and left to die – until she finds herself rescued by handsome Dutch Lieutenant Dirk Van Buren.

Still tender from her loss, Heather Flower begins to heal in the home of the Hortons, English friends of her people. Torn between her affection for Dirk and her longtime friendship with Ben Horton, Heather Flower must make a difficult choice – stay true to her friend or follow her heart.

Exploring a unique slice of history, Rebecca DeMarino transports you to the wild land that would eventually become Long Island, New York.
I wanted to like Rebecca DeMarino's To Capture Her Heart so much more than I actually did. Now, I did enjoy it for the most part, and the historical detail and suspense fascinated me. Yet, it still fell a bit short of my expectations in terms of the romantic elements. As the novel progresses, the narrative passes times rather quickly, jumping weeks and months in certain parts. I felt like this detracted from some of the character development and didn't allow for adequate evidence and explanation of feelings - within the love triangle, the characters seem to have certain feelings all of a sudden, out of the blue. Also, much more of the story focused on the daily lives of the Horton family than I expected based on the back-of-the-book summary. Still, To Capture Her Heart is a pleasant read and I'm sure fans of A Place in His Heart, the first Southold Chronicles novel, will enjoy it. (Interested readers, be sure to read A Place in His Heart before To Capture His Heart.)
Thanks to Revell Reads, I received a copy of
To Capture Her Heart
and the opportunity to provide an honest review. I was not required to write a positive review, and all the opinions I have expressed are my own.
About the Author
Rebecca DeMarino
is the author of

A Place in His Heart, book one of the Southold Chronicles, a series inspired by her ninth great-grandparents, Barnabas and Mary Horton.She inherited her love of baking and gardening from her mother; a love of horses,

reading

, and writing from her dad; and the wanderlust gene from both parents. Rebecca lives in the Pacific Northwest with her husband, Tom. Learn more at her website.