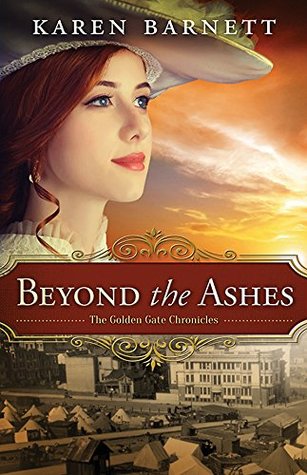 ★★★★★
Where better to rebuild and face one's fears than in 1906 San Francisco, a city rising from

the

ashes

?

Ruby Marshall, a young widow, is certain she'll discover new purpose assisting her brother Robert with his cancer research, but she doesn't anticipate finding new love.

Dr. Gerald Larkspur dreams of filling his empty home with family, but he'd always hoped it would be a wife and children. In

the

aftermath of

the

great earthquake,

the

rooms are overflowing with extended family and friends left homeless by

the

disaster. When Robert's widowed sister arrives,

the

close quarters seem close indeed.



Ruby and Gerald's fledgling romance is put at risk when Gerald develops symptoms of

the

very disease they're striving to cure. Together they must ask – is it worth a second chance at love when time might be short?
The second in Karen Barnett's Golden Gate Chronicles, Beyond the Ashes offers the perfect follow-up story to Out of the Ruins, revisiting both the aftermath of the 1906 San Francisco earthquake and early 1900s cancer treatments with another endearing romance. The story's focus falls on Ruby Marshall, the older sister of Out of the Ruins' Dr. Robert King, and Dr. Gerald Larkspur, Robert's friend and mentor, as they learn to trust God with control and the future amidst the chaos and uncertainty of life. An all-around enjoyable historical story with plenty of romance and an encouraging spiritual message, Beyond the Ashes kept me intrigued and captivated from start to finish. I recommend it to fans of historical romance (it does help to read Out of the Ruins first, as Robert and Abby appear regularly throughout Beyond the Ashes) and now look forward to reading more from Karen Barnett.
Thanks to LitFuse Publicity Group, I received a copy of
Beyond the Ashes
and the opportunity to provide an honest review. I was not required to write a positive review, and all the opinions I have expressed are my own. To read other opinions, be sure to check out what other reviewers think
here
, and purchase a copy of the book
here
.
Karen Barnett is

the

author of

Beyond the Ashes,

Out of the Ruins, and

Mistaken. Named

the

2013 Writer of Promise by Oregon Christian Writers, Karen lives in Albany, Oregon, with her husband and two kids. When she's not writing novels, she loves speaking at women's events, libraries, and book clubs.
Find Karen online at her website, Facebook and Twitter.