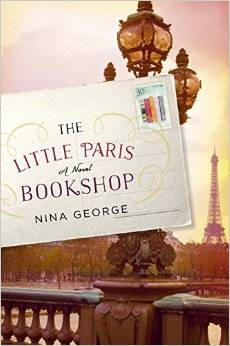 ★★★★★
"There are books that are suitable for a million people, others for only a hundred. There are even remedies – I mean books – that were written for one person only… A book is both medic and medicine at once. It makes a diagnosis as well as offering therapy. Putting the right novels to the appropriate ailments: that's how I sell books."
Monsieur Perdu calls himself a literary apothecary. From his floating bookstore in a barge on the Seine, he prescribes novels for the hardships of life. Using his intuitive feel for the exact book a reader needs, Perdu mends broken hearts and souls. The only person he can't seem to heal through literature is himself; he's still haunted by heartbreak after his great love disappeared. She left him with only a letter, which he has never opened.
After Perdu is finally tempted to read the letter, he hauls anchor and departs on a mission to the south of France, hoping to make peace with his loss and discover the end of the story. Joined by a bestselling but blocked author and a lovelorn Italian chef, Perdu travels along the country's rivers, dispensing his wisdom and his books, showing that the literary world can take the human soul on a journey to heal itself.
Internationally bestselling and filled with warmth and adventure, The Little Paris Bookshop is a love letter to books, meant for anyone who believes in the power of stories to shape people's lives.
Nina George's The Little Paris Bookshop is a delightfully unique read involving books and love and discovering life. When the readers meet Monsieur Perdu, he has spent twenty years stagnantly dwelling in his loss and bitterness and grief. Yet, after reading a long-neglected letter, he suddenly unmoors his water-bound bookshop and sets off on a southern journey towards mourning, healing and discovery. The curious cast of characters joins him along the way and help him to learn to embrace life again, as he uses books for currency and dances the tango and ponders over entries for his Great Encyclopedia of Small Emotions. I can easily say that I enjoyed The Little Paris Bookshop, an overall heartwarming and touching story, and would recommend it to interested readers.
Thanks to Blogging for Books, I received a copy of
The Little Paris Bookshop
and the opportunity to provide an honest review. I was not required to write a positive review, and all the opinions I have expressed are my own.