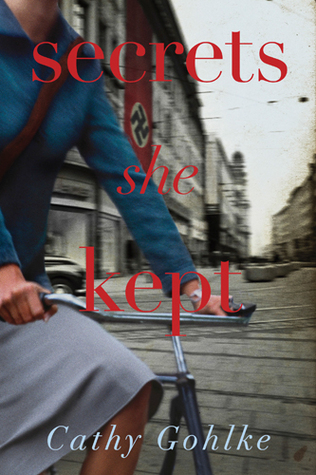 ★★★★★
The secret a mother was forbidden to share… the consequences a daughter could not redeem – but will risk everything in her attempt.


All her life, Hannah Sterling longed for a close relationship with her estranged mother. Following Lieselotte's death, Hannah unlocks secrets of her mother's mysterious past, including the discovery of a grandfather living in Germany.

Thirty years earlier, Lieselotte's father, ascending the ranks of the Nazi party, demands a marriage for his daughter to help advance his career. But Lieselotte is in love – and her beloved Lukas secretly works against the Reich. How far will her father go to achieve his goal?

Both Hannah's and Lieselotte's stories unfold as Hannah travels to Germany to meet her grandfather, who hides wartime secrets of his own. Longing for connection, yet shaken by all she uncovers, Hannah must decide if she can atone for her family's tragic past, and how their legacy will shape her future.
Wow. Without a doubt, Cathy Gohlke's Secrets She Kept is a remarkable and powerful book. Even days after finishing it, aspects of her story lingered in my mind and kept me thinking, wondering. With two distinct yet connected storylines, Gohlke's novel shares a poignant World-War-II story about the challenge of uncovering secrets and the importance offering forgiveness. One storyline follows teenaged Lieselotte Sommer as she grows up under Nazi rule in Germany and decides to hold to her convictions with dangerous bravery. And decades after the end of World War II, the second storyline follows Lieselotte's daughter, Hannah Sterling, as she travels to Germany to better understand her now-deceased mother. Together and alternating, these two storylines tell a heartbreaking yet captivating and redemptive story. I absolutely loved it and would highly recommend it. Readers of historical fiction must read Secrets She Kept.
Thanks to Tyndale BlogNetwork, I received a copy of
Secrets She Kept
and the opportunity to provide an honest review. I was not required to write a positive review, and all the opinions I have expressed are my own.