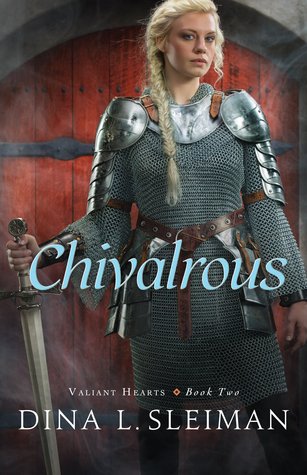 ★★★★★
Strong and adventurous Gwendolyn Barnes longs to be a knight like her chivalrous brothers. However, that is not an option for her, not even in the Arthurian-inspired Eden where she dwells. Her parents view her only as a marriage pawn, and her domineering father is determined to see her wed to a brutish man who will break her spirit.


When handsome, good-hearted Allen of Ellsworth arrives in Edendale searching for his place in the world, Gwendolyn spies in him the sort of fellow she could imagine marrying. Yet fate seems determined to keep them apart. Tournaments, intrigue, and battles – along with twists and turns aplenty – await these two as they struggle to find love, identity, and their true destinies.
The sequel to Dauntless, Dina L. Sleiman's Chivalrous captures the same spirit of adventure and independence found in the first Valiant Hearts book. Allen of Ellsworth, a prominent Dauntless character, takes a lead role in this second novel, as he travels to Edendale, where he hopes to find a place he can belong. There, he meets Lady Gwendolyn Barnes, another lead character who feels the constraints of society. They begin to form a relationship, when trouble erupts in Edendale and causes a number of problems for both Allen and Gwendolyn. With suspenseful plot twists, encouraging faith and knightly chivalry, Chivalrous offers a fascinating story, and I really enjoyed following their story to its satisfying conclusion. Fans of Dauntless will not be disappointed with the addition of Chivalrous. It's a great read, and I would certainly recommend it to interested readers.
Thanks to Bethany House, I received a copy of
Chivalrous
and the opportunity to provide an honest review. I was not required to write a positive review, and all the opinions I have expressed are my own.