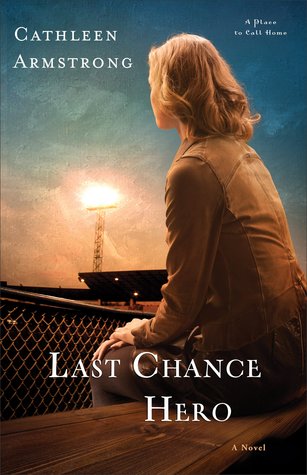 ★★★★★
What happens when your heart is intercepted before you even know it's in play?
The folks in Last Chance, New Mexico, could not be more pleased. Dr. Jessica MacLeod has opened an office right on Main Street and Andy Ryan, the best athlete the little town ever produced, has come home from the NFL to coach the high school football team. Unfortunately, Dr. Jess immediately gets off on the wrong foot with this football-obsessed town when she admits that she's never seen a football game, isn't really interested in doing so, and in fact doesn't know a first down from a goalpost.
Despite having little in common, Jess and Andy find themselves drawn to each other. But when a disagreement over the future of an injured player puts them both on the defensive, it begins to look like this game is over…
Cathleen Armstrong's latest visit to Last Chance, New Mexico with Last Chance Hero will please fans of her series, A Place to Call Home. This fourth Last Chance novel follows newcomer Dr. Jessica McLeod, as she moves to the small town to be its doctor, and hometown hero Andy Ryan, as he returns to coach the local high school football team. With a lot of football and warm feelings of finding home, Last Chance Hero offers a cute, simple, quick romance. I enjoyed this novel and would recommend it to readers of contemporary romance.
Thanks to Revell Reads, I received a copy of
Last Chance Hero
and the opportunity to provide an honest review. I was not required to write a positive review, and all the opinions I have expressed are my own.
Cathleen Armstrong

lives in Orange County, California, with her husband, Ed, and their corgi. Though she has been in California for many years now, her roots remain deep in New Mexico. Her debut novel Welcome to Last Chance won the American Christian Fiction Writers Genesis Award for Women's Fiction. She is also the author of One More Last Chance and At Home in Last Chance. Learn more at her website.