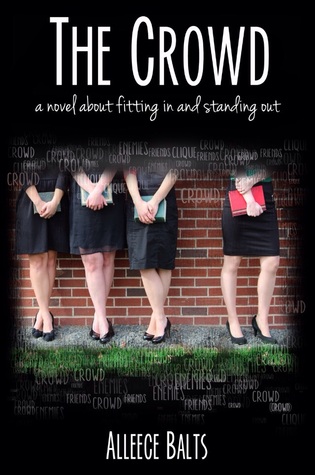 Whitfield Preparatory Academy ought to be the perfect school…
Not only does the Academy boast a distinguished faculty and lavish campus, it is also home to the privileged youth of the upper class. They will one day hold the reins of power in the business world and political arena – but for now, they exercise absolute authority at the Academy.

For seventeen-year-old Ella Parker, acceptance into the prestigious Academy is a dream come true. But her delight quickly turns to dread when she finds herself in the crosshairs of an elite group of ruthless students dubbed "the Crowd." Ella's been at the center of unwanted attention before – but never like this – and she'll do anything to make them stop. Anything, that is, apart from accepting the advances of popular and wealthy playboy Jackson Montgomery, the leader of the Crowd.

Will Ella be humiliated, or triumph over her tormentors?

An irresistible story of faith, friendship, betrayal, and romance, The Crowd will immerse readers in Ella's tumultuous struggle from the very first page.
MY REVIEW
Author Alleece Balts debuts with
The Crowd
, an uplifting novel for the YA reader. A blend of hard, humorous, and heartfelt moments, it delivers a story worth reading and characters worth loving.
"It doesn't have to be true to be believed."
I don't think I could have read The Crowd at a better time. Balts handily addresses issues of bullying, loneliness, and grief within the context of a prestigious boarding school, but the ensuing—and important—lessons of kindness, forgiveness, and redemption (plus the fitting quotes from Eleanor Roosevelt) apply far beyond student-to-student interaction and behavior. I couldn't help but see relevance in the way a word or act of kindness (in the face of cruelty, peer pressure, abuse of privilege) can have a meaningful positive influence.
And of course, I can't neglect to mention the sweet romance integrated among the tough issues. Smart and musical, determined yet sensitive, Ella Parker has her choice of two very different guys—both provoking moments of liking and disliking for me. As the problems escalate and settle around her, the romance develops happily and proves not only sweet, but also invaluable for challenging the status quo.
All in all,
The Crowd
—quick yet memorable—is a pleasure to read, and readers of inspirational YA are sure to find it enjoyable. I quite enjoyed reading it and, naturally, now look forward to discovering what Alleece Balts has planned next for her characters and their story.
Thanks to the author, I received a complimentary copy of
The Crowd
and the opportunity to provide an honest review. I was not required to write a positive review, and all the opinions I have expressed are my own.