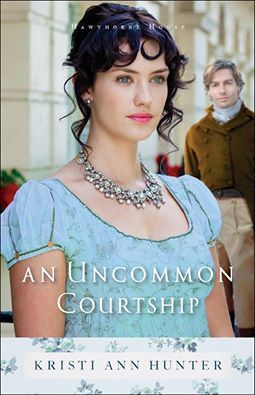 Life for Lady Adelaide Bell was easier if she hid in her older sister's shadow

—

which worked until her sister got married. Even with the pressure of her socially ambitious mother, the last thing she expected was a marriage of convenience to save her previously spotless reputation.
Lord Trent Hawthorne couldn't be happier that he is not the duke in the family. He's free to manage his small estate and take his time discovering the life he wants to lead, which includes grand plans of wooing and falling in love with the woman of his choice. When he finds himself honor bound to marry a woman he doesn't know, his dream of a marriage like his parents' seems lost forever.
Already starting their marriage on shaky ground, can Adelaide and Trent's relationship survive the pressures of London society?
The third book in Kristi Ann Hunter's Hawthorne House series,
An Uncommon Courtship
focuses on Lord Trent Hawthorne as he finds himself in quite a marriage predicament. Forced into marriage with Lady Adelaide Bell for the sake of propriety, there's plenty of humor sprinkled throughout Trent's story, and I so enjoyed seeing the relationship develop between Trent and Adelaide. Both characters are dear, despite their bumbling attempts at marriage in the beginning, and I loved the way that Hunter handles their struggles—with relationships, faith, and otherwise.
An Uncommon Courtship
was a pleasure to read and I can't help recommending it to readers of historical (especially Regency) romance.
Thanks to Bethany House, I received a complimentary copy of
An Uncommon Courtship
and the opportunity to provide an honest review. I was not required to write a positive review, and all the opinions I have expressed are my own.