ABOUT THE BOOK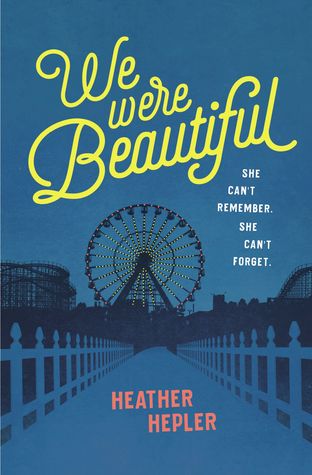 It's been a year since fifteen-year-old Mia Hopkins was in the car crash that killed her older sister and left her terribly scarred. The doctors tell her she was lucky to survive. Her therapist says it will take time to heal. The police reports claim there were trace amounts of alcohol in her bloodstream. But no matter how much she tries to reconstruct the events of that fateful night, Mia's memory is spotty at best. She's left with accusations, rumors, and guilt so powerful it could consume her.
As the rest of Mia's family struggles with their own grief, Mia is sent to New York City to spend the summer with a grandmother she's never met. All Mia wants to do is hide from the world, but instead she's stuck with a summer job in the bustling kitchens of the café down the street. There she meets Fig—blue-haired, friendly, and vivacious—who takes Mia under her wing. As Mia gets to know Fig and her friends—including Cooper, the artistic boy who is always on Mia's mind—she realizes that she's not the only one with a painful past.
Over the summer, Mia begins to learn that redemption isn't as impossible as she once thought, but her scars inside run deep and aren't nearly so simple to heal … especially when Mia finally pieces together her memories of the night Rachel died.
From acclaimed author Heather Hepler comes We Were Beautiful, a poignant young adult novel about tragedy, forgiveness, and love. Perfect for fans of Robyn Schneider and Justina Chen.
Publisher: Blink YA
Release Date: April 2, 2019
MY REVIEW
Dealing with the grief of her older sister's death and her family's subsequent struggles, Mia Hopkins heads for New York City for the summer. She may not want to spend the time with a grandmother she does not know, but it all may be exactly what she needs.
We Were Beautiful
is a poignant YA story, delving into grief, pain, loss, guilt, scars, and several other heavy topics, as well as family, friendship, romance, acceptance, and hope. Mia has great coming-of-age moments within the new community she finds, and seeing how she learns to heal makes this book a beautiful one.
I loved
We Were Beautiful
and highly recommend it.
I received a complimentary copy of this book and the opportunity to provide an honest review. I was not required to write a positive review, and all the opinions I have expressed are my own.
ABOUT THE AUTHOR
Heather Hepler is the author of several books for teens and tweens, including Frosted Kisses, Love? Maybe, and The Cupcake Queen. Having lived in East Texas, Alaska, and Death Valley, she currently resides with her son, their two spoiled cats, and their ridiculously smart dog in Maine.
TOUR SCHEDULE