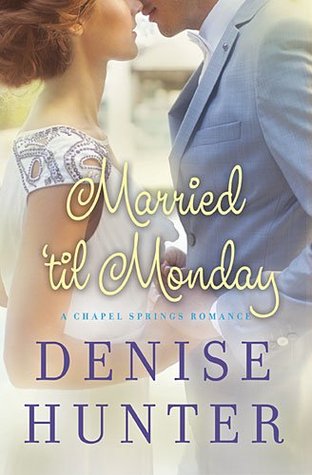 ★★★★★
With a big anniversary party in the works for her parents, Ryan will pretend to be Abby's husband for just one last weekend.
Ryan McKinley has tried to move on from his ex-wife, Abby. He's sulked, he's gotten angry, and ultimately he bought her dream house. Big mistake. Living alone in the massive 2-story has only made him miss her more. When her parents call him out of the blue about their anniversary party in Summer Harbor, Maine, Ryan believes God has dropped a golden opportunity straight in his lap.
Abby McKinley never exactly told her parents about the divorce. A strained relationship with her dad has culminated in a distant relationship with her parents, but she's finally succumbed to her mom's pressure to make the drive for their 35th-anniversary party.
Then Ryan shows up on her doorstep, looking as devastatingly handsome as ever. When he insists he's going to Seabrook, with or without her, Abby knows she can't say no. Her parents still think they're married and now Ryan knows it too. Besides, he only wants to check in with his best friend from college – her cousin Beau, who just lost his dad. It's just a one-week road-trip with the man who broke her heart. What could possibly go wrong?
As I write this, I keep remembering just how thoroughly I loved and enjoyed Denise Hunter's

Married 'til Monday

- I cannot think of a single thing that disappointed me. Since falling in love with the McKinley family in the previous three Chapel Springs novels, I have eagerly been waiting for the novel that tells heartbroken and divorced Ryan McKinley's story. In

Married 'til Monday

, circumstances allow him the chance to spend time with his ex-wife, Abby, on a cross-country road trip. This opportunity to reconnect naturally brings painful emotions and heart-wrenching secrets - with a solid dose of enduring love and continued attraction - to the surface, in the midst of humorous misadventures. Throughout the storyline, Ryan and Abby transition between sweet moments of tenderness and passion and frustrating moments of hurt and stubbornness, but this second-chance journey of theirs

, filled with healing, forgiveness and learning

to trust God with both the past and the future,

is wholly beautiful and encouraging and impossible to put down. An excellent novel by Denise Hunter,

Married 'til Monday

is one read fans of contemporary romance will not want to miss. I certainly recommend it - especially to those who love the Chapel Springs series.
Thanks to BookLook Bloggers, I received a copy of
Married 'til Monday
and the opportunity to honestly review it. I was not required to write a positive review, and all the opinions I have expressed are my own. (I am disclosing this in accordance with the Federal Trade Commission's 16 CFR, Part 255: "Guides Concerning the Use of Endorsements and Testimonials in Advertising.")