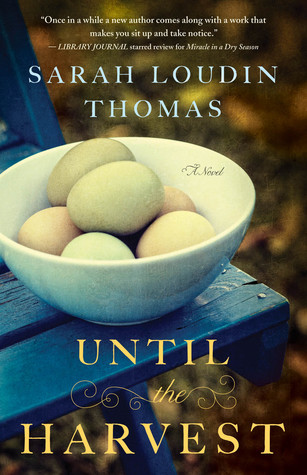 ★★★★★
When a family tragedy derails Henry Phillips's college studies, he's left unmoored and feeling abandoned. Although Henry tries to find escape in bad company, the only things that can tamp down his anger and grief are the family farm, his fiddle, and sweet but unusual pre-teen Mayfair Hoffman.
Unfortunately, Mayfair's older sister, Margaret, with the freckles and cute, turned-up nose, has the opposite effect. Worse, she's his grandmother's housekeeper and helper, so she's always around and ready to push his buttons. At first he thinks she doesn't care about his loss, before beginning to understand she's facing her own struggles. Mayfair's health and unique gift sit at the heart of those worries, and Henry and Margaret soon find themselves relying on each other as both Henry's future and Mayfair's life are put at risk.
With a combination of familiar and new faces, Sarah Loudin Thomas's sequel to Miracle in a Dry Season, Until the Harvest, provides another uplifting story of family, community, romance and a few miraculous happenings amidst small-town Appalachian scenery. The son of Casewell and Perla, Henry Phillips, suddenly finds himself struggling with his identity and dreams in the wake of tragedy and grief, while the other main character, Margaret Hoffman, deals with the challenges of an unloving family. With a balanced narration divided neatly between Henry and Margaret, Until the Harvest shows its characters overcoming the many obstacles that arise and discovering healing, hope and love. I can easily say that I loved this heartwarming and encouraging novel just as much as I did the first one, and I heartily recommend it. I can't wait to read more from Sarah Loudin Thomas in the future.
Thanks to Bethany House, I received a copy of
Until the Harvest
and the opportunity to provide an honest review. I was not required to write a positive review, and all the opinions I have expressed are my own.