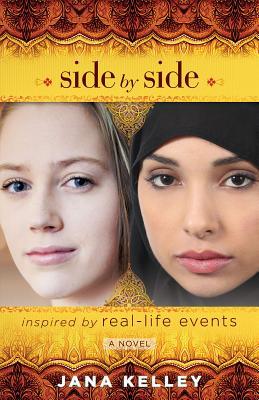 ★★★★
✩
In the dusty, Islamic country of Sudan, Mia's life collides with that of another young woman. A young Christian American mother, Mia finds more than one dark secret on the streets of Khartoum. She finds Halimah, a young, upper-class Arab student with a bright future in her family's business whose risky and secretive decision has put her life in danger. What happens when the path of young mother intersects with that of a spunky Sudanese student? God transforms them both… forever.
Part of New Hope® Publishers' contemporary missional fiction line, Side by Side
opens the reader's eyes to the life of Muslims in Sudan as well as some of the struggles that Christians face when living under Islamic law. The reader will be inspired to pray for those who are persecuted for their faith as well as pray for the salvation of those who persecute.
Read an excerpt
here and purchase a copy here.
So many adjectives can easily describe Jana Kelley's
Side by Side
: compelling, fascinating, eye-opening, relevant, interesting, memorable… (to list just a few.) This novel, developed out the author's personal experiences and interactions in Africa and the Middle East, tells the story of two women from very different worlds drawn together by a risky faith. Though much of the dialogue felt a bit too scripted and not completely natural,
Side by Side
is still a spiritually and culturally worthwhile read, and it did not take me long to read through this suspenseful and engaging novel. I'm glad I read it - stories like this one are important to know in this day and age, and for any reader interested Christianity in Islam-controlled areas,
Side by Side
is a great option. I would recommend it.
Thanks to LitFuse Publicity Group, I received a copy of
Side by Side
and the opportunity to provide an honest review. I was not required to write a positive review, and all the opinions I have expressed are my own. To read other opinions, be sure to check out what other reviewers think here.
Jana Kelley is a Texan who hardly ever lives in Texas. Raised in Southeast Asia, Jana developed a love for cross-cultural living early in life. Her love for writing came soon after. Jana returned to Texas to attend East Texas Baptist University. She and her husband married a month after she graduated, and by their second anniversary, they were living in a remote African town. After 13 years living in Africa and the Middle East, Jana, her husband, and their three boys moved to Southeast Asia where they currently live.
Find the author online at her
website
,
Facebook
and
Twitter
.