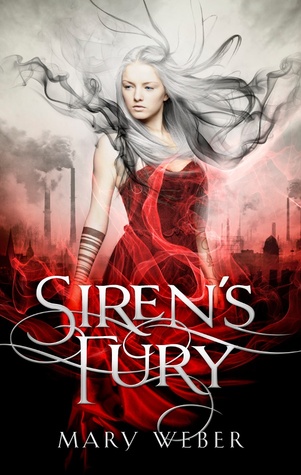 ★★★★★
"I thrust my hand toward the sky as my voice begs the Elemental inside me to waken and rise. But it's no use. The curse I've spent my entire life abhorring – the thing I trained so hard to control – no longer exists."
Nym has saved Faelen only to discover that Draewulf stole everything she valued. Now he's destroyed her Elemental storm-summoning ability as well.
When Nym is taken with a host of delegates to Bron, Lord Myles offers her the chance for a new kind of power and the whispered hope that it may do more than simply defeat the monster she loathes. But the secrets the Bron people have kept concealed, along with the horrors Draewulf has developed, may require more than simply harnessing a darker ability.
They may require who she is.
Set against the stark metallic backdrop of the Bron kingdom, Nym is faced with the chance to change the future. Or was that Draewulf's plan for her all along?
In

Siren's Fury

, Mary Weber continues the captivating, fantastical story began in

Storm Siren

and once again, I loved every bit of it. This second story picks up directly where the first stopped with that cruel cliffhanger of an ending, surprising and satisfying me from start to finish with all the twists and turns the plot takes. It was a pleasure to follow Nym - with her clever wit and stubborn determination - through another action-packed tale full of magic, adventure, suspense and romance, as she continues to grapple with her abilities and identity. Fans of

Storm Siren

will not want to miss this addition to Mary Weber's series - and fans of fantasy should definitely start this great series with

Storm Siren

, then continuing with

Siren's Fury

. An addictive read,

Siren's Fury

kept me turning pages and left me eagerly awaiting the next book. (Thankfully, this book does not end as shockingly as the first.)
Thanks to BookLook Bloggers, I received a copy of
Siren's Fury
and the opportunity to honestly review it. I was not required to write a positive review, and all the opinions I have expressed are my own. (I am disclosing this in accordance with the Federal Trade Commission's 16 CFR, Part 255: "Guides Concerning the Use of Endorsements and Testimonials in Advertising.")
Mary Weber is a ridiculously uncoordinated girl plotting to take over make-believe worlds through books, handstands, and imaginary throwing knives. In her spare time, she feeds unicorns, sings 80's hairband songs to her three muggle children, and ogles her husband who looks strikingly like Wolverine. They live in California, which is perfect for stalking L.A. bands, Joss Whedon, and the ocean.
Find her online at her website, Facebook and Twitter.