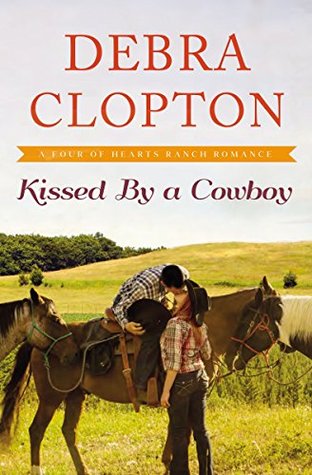 ★★★★★
Cassidy was looking for a home and a place to belong... not for a

cowboy

to steal her heart.
Having lived through her parents' endless string of "matrimonial bliss gone wrong," Cassidy Starr knows when the odds are not in her favor. Divorced and humiliated, her faith on rocky ground, Cassidy is through with love. She's been bucked off that horse far too many times. Instead, she returns to Wishing Springs, Texas, and the rundown farm she's inherited from her great aunt Roxie. She'll reopen the strawberry farm and a bed & breakfast and follow in her aunt's footsteps, remaining forever-independent, happy... and single.
Rancher Jarrod Monahan's hands are full running the ranch, looking after his ailing gr
andfather, and chasing down a group of rustlers on the loose. He's pushed his longing for a family to the bottom of his list of priorities. Besides, he was in love once but ran scared and lost his shot at happiness. But suddenly, the biggest regret of his life has moved in next door with a wounded heart, determined to become a spinster... and that's a challenge that Jarrod can't pass up.
Jarrod sets his mind to breaking down the walls around Cassidy's stubborn heart. How can he show her that a
cowboy
's
kiss
lasts forever? For the good folks of Wishing Springs, falling in love has never been so much fun to witness.
With just its title, Debra Clopton's
Kissed by a Cowboy
seems to promise all the romance I enjoyed in the previous Four of Hearts Ranch novels. So, I started reading it with high expectations, and luckily, I did not stop disappointed, as the eldest Monahan brother gets his chance for love finally.
Entirely serious, focused, and committed to running his family's ranch successfully, Jarrod does not have time to consider his love life - until a woman from his past, Cassidy Starr, moves into the next-door house, and their attraction is immediate, mutual, and undeniable. Unfortunately, stubborn Cassidy has decide to remain single and independent in the wake of her humiliating divorce. Just as stubbornly, though, Jarrod quickly determines he needs to change her mind.
As comedic scenarios, emotional hurts, and the meddlesome matchmakers of Wishing Springs bring Jarrod and Cassidy together again and again,
Kissed by a Cowboy
tells an entertaining and heartwarming romance. I really enjoyed it, and I believe fans of contemporary romance, especially those who have read the other Four of Hearts Ranch novels, will, too. I recommend it.
Thanks to LitFuse Publicity Group, I received a copy of
Kissed by a Cowboy
and the opportunity to provide an honest review. I was not required to write a positive review, and all the opinions I have expressed are my own. To read other opinions, be sure to check out what other reviewers think here, and purchase a copy of the book here.
Debra Clopton is a multi-award winning novelist and has written more than 22 novels. Along with writing, Debra helps her husband teach the youth at their local

Cowboy

Church. Debra's goal is to shine a light toward God while she entertains readers with her words.