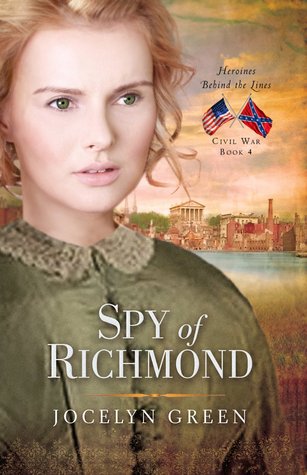 ★★★★★
Trust none. Risk all.


Richmond, Virginia, 1863.

Compelled to atone for the sins of her slaveholding father, Union loyalist Sophie Kent risks everything to help end the war from within the Confederate capital and abolish slavery forever. But she can't do it alone.



Former slave Bella Jamison sacrifices her freedom to come to Richmond, where her Union soldier husband is imprisoned, and her twin sister still lives in bondage in Sophie's home. Though it may cost them their lives, they work with Sophie to betray Rebel authorities. Harrison Caldwell, a Northern freelance journalist who escorts Bella to Richmond, infiltrates the War Department as a clerk-but is conscripted to defend the city's fortifications.

As Sophie's spy network grows, she walks a tightrope of deception, using her father's position as newspaper editor and a suitor's position in the ordnance bureau for the advantage of the Union. One misstep could land her in prison, or worse. Suspicion hounds her until she barely even trusts herself. When her espionage endangers the people she loves, she makes a life-and-death gamble.

Will she follow her convictions even though it costs her everything – and everyone – she holds dear?
Finally, I had the chance to read Spy of Richmond - and I absolutely loved it. As the fourth book in the Heroines Behind the Lines series, it explores another female perspective of the Civil War, and it is wholly fascinating and vivid and wonderful. Sophie Kent takes the female lead in this story as a Southern set against slavery and takes the risks to secure freedom from her Richmond home. She interacts with familiar characters, like former slave Bella Jamison and journalist Harrison Caldwell, and her story is engaging, compelling, and inspiring. It's a perfect addition to the series, but can easily be read on its own. I highly recommend it to fans of historical fiction and now, look forward to reading more from Jocelyn Green in the future.
Thanks to Moody Publishers, I received a copy of
Spy of Richmond
and the opportunity to provide an honest review. I was not required to write a positive review, and all the opinions I have expressed are my own.