ABOUT THE BOOK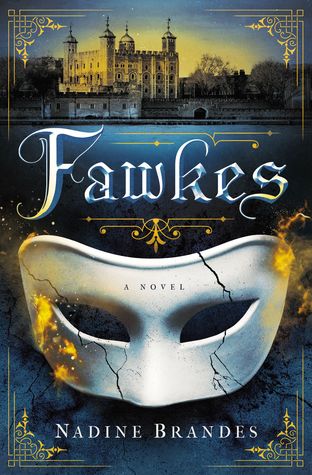 "Fawkes is the perfect mix of history and magic." —Cynthia Hand, New York Times bestselling author of My Lady Jane

Thomas Fawkes is turning to stone, and the only cure to the Stone Plague is to join his father's plot to assassinate the king of England.

Silent wars leave the most carnage. The wars that are never declared but are carried out in dark alleys with masks and hidden knives. Wars where color power alters the natural rhythm of 17th-century London. And when the king calls for peace, no one listens until he finally calls for death.

But what if death finds him first?

Keepers think the Igniters caused the plague. Igniters think the Keepers did it. But all Thomas knows is that the Stone Plague infecting his eye is spreading. And if he doesn't do something soon, he'll be a lifeless statue. So when his Keeper father, Guy Fawkes, invites him to join the Gunpowder Plot—claiming it will put an end to the plague—Thomas is in.

The plan: use 36 barrels of gunpowder to blow up the Igniter King.

The problem: Doing so will destroy the family of the girl Thomas loves. But backing out of the plot will send his father and the other plotters to the gallows. To save one, Thomas will lose the other.

No matter Thomas's choice, one thing is clear: once the decision is made and the color masks have been put on, there's no turning back.

"I was up late in the night reading, waiting to get to the fifth of November to see how the plot would actually unfold, and it did not disappoint. An imaginative, colorful tale about choosing for yourself between what's right and what others insist is the truth." —Cynthia Hand, New York Times bestselling author of My Lady Jane

"Hold on to your heart as this slow-burning adventure quickly escalates into an explosion of magic, love, and the truth about loyalty." —Mary Weber, bestselling author of the Storm Siren Trilogy

"Fawkes is a tale full of spiritual depth, tragedy, and hope. A beautifully written allegory for the magic of faith, with an achingly relatable hero who pulls you into his world heart and soul. A must-read for all fantasy fans!" —Lorie Langdon, author of Olivia Twist

"A brilliant book that fulfills every expectation. Brandes turns seventeenth century London into a magical place. I was captivated by the allegory of her magic system and how she blended that fantasy with history. I highly recommend this gripping and beautifully crafted book to all. It will leave you both entertained and pondering matters raised in the storyline long after you've finished reading." —Jill Williamson, Christy Award-winning author of By Darkness Hid and Captives

"A magical retelling of the seventeenth century's famous Gunpowder Plot that will sweep you back in time—to a divided England where plagues can turn you to stone and magic has a voice. Deft and clever, Fawkes is a vibrant story about the search for truth and issues relevant to us, still, today." —Tosca Lee, New York Times bestselling author
Publisher: Thomas Nelson
Release Date: July 10, 2018
MY REVIEW
Nadine Brandes retells the infamous Gunpowder Plot of 1605 with quite a bit of imagination in her new release,
Fawkes
. Instead of the traditional religious dispute, the plot is a result of disagreements using a color-power magic system, and Thomas Fawkes, son of Guy Fawkes, finds himself in the middle of the conflict. With plenty of intrigue, action, and a touch of romance, both the history and the fantasy of
Fawkes
come to life as Thomas begins to discover confidence in who he is, as well as his purpose within the conflict. It's fun, it's entertaining, it has great heart—I highly recommend this book.
Thanks to BookLook Bloggers, I received a complimentary copy of
Fawkes
and the opportunity to provide an honest review. I was not required to write a positive review, and all the opinions I have expressed are my own.