ABOUT THE BOOKS
How do you choose between loyalty and the truth?

When the Carrington County Sheriff's Office dive team is called in to recover a body from a submerged car, they aren't prepared to find an encrypted laptop–or an unsettling connection between investigator Adam Campbell and the dead accountant.

Adam turns to his friend Dr. Sabrina Fleming to recover the files from the laptop. But the deeper they dig, the deadlier the investigation becomes. When evidence implicates members of Adam's own family, he and Sabrina will have to risk everything to solve the case.

The truth could set hundreds free–but someone is willing to do whatever it takes to silence anyone who threatens to reveal their secrets.
Publisher: Revell
Release Date: November 6, 2018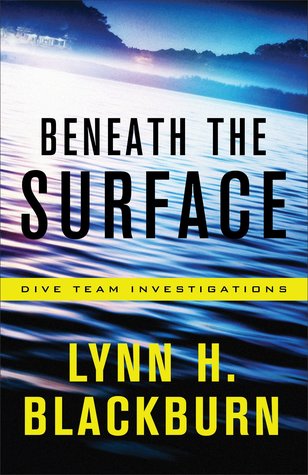 After a harrowing experience with an obsessed patient, oncology nurse practitioner Leigh Weston needed a change. She thought she'd left her troubles behind when she moved home to Carrington, North Carolina, and took a job in the emergency department of the local hospital. But when someone tampers with her brakes, she fears the past has chased her into the present. She reaches out to her high school friend turned homicide investigator, Ryan Parker, for help.

Ryan finds satisfaction in his career, but his favorite way to use his skills is as a volunteer underwater investigator with the Carrington County Sheriff's Office dive team. When the body of a wealthy businessman is discovered in Lake Porter, the investigation uncovers a possible serial killer–one with a terrifying connection to Leigh Weston and deadly implications for them all.

Dive into the depths of fear with an exciting new voice in romantic suspense. Award-winning author Lynn H. Blackburn grabs readers by the throat and doesn't let go until the final heart-pounding page.

Publisher: Revell
Release Date: March 6, 2018
ABOUT THE AUTHOR
Lynn H. Blackburn is the author of Hidden Legacy (Love Inspired, June 2017) and Covert Justice, winner of the 2016 Selah Award for Mystery and Suspense and the 2016 Carol Award for Short Novel. Blackburn believes in the power of stories, especially those that remind us that true love exists, a gift from the Truest Love. She's passionate about CrossFit, coffee, and chocolate (don't make her choose) and experimenting with recipes that feed both body and soul. She lives in Simpsonville, South Carolina, with her true love, Brian, and their three children.
GIVEAWAY
Book Pack with swag (US/Canada)
(US/Canada Mailing Addresses Only)