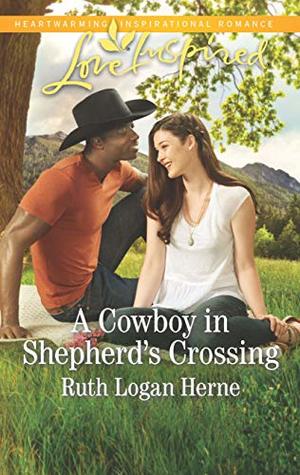 Cowboy bachelor Jace Middleton was ready to leave Shepherd's Crossing for good—until he learns his family's unspoken secrets.
Now Jace finds himself not only caring for his twin baby nieces, but working with beautiful, strong-willed designer Melonie Fitzgerald to renovate his grandmother's run-down estate.
Love wasn't part of the plan… but Jace soon finds himself wishing Melonie could become part of his unexpected family.
Publisher: Love Inspired
Release Date: January 1, 2019
OTHER BOOKS IN THE SERIES
MY REVIEW
A story of romance and family drama,
A Cowboy in Shepherd's Crossing
by Ruth Logan Herne is fun to read and enjoy. It's sure to delight inspirational contemporary readers.
Cowboy Jace Middleton has every intention of leaving Shepherd's Crossing—until a family secret changes his plans. Now, he must care for his young nieces and work side-by-side with designer Melonie Fitzgerald. She, too, has experienced her share of plan-changing surprises, but as the drama of the story challenges the pair, they face it all with determination, hope, and humorous banter, of course.
A Cowboy in Shepherd's Crossing
is a sweet, romantic read. I'm definitely looking forward to reading more of Ruth Logan Herne's Shepherd's Crossing series now.
Thanks to JustRead Tours, I received a complimentary copy of
A Cowboy in Shepherd's Crossing
and the opportunity to provide an honest review. I was not required to write a positive review, and all the opinions I have expressed are my own.
AB
OUT THE AUTHOR
Best-selling, multi-published, award-winning author Ruth Logan Herne is the author of nearly fifty novels and novellas through traditional publishers and her own independent works. She loves God, her family, country, coffee, chocolate and dogs, and wishes possums would leave the cat food on the side porch alone. And yet… they don't. With over a million books in print, Ruthy is living her dream of touching hearts and souls by writing the kind of books she likes to read.

She lives on a pumpkin farm in Western New York where they grow all kinds of cool things for fall from sumptuous squashes and veggies to gorgeous stacking pumpkins. Ruthy's farm is quickly becoming the place to be every September and October!