ABOUT THE BOOK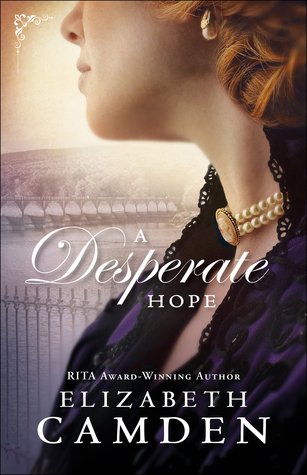 Eloise Drake's prim demeanor hides the turbulent past she believes is finally behind her. A mathematical genius, she's now a successful accountant for the largest engineering project in 1908 New York. But to her dismay, her new position puts her back in the path of the man responsible for her deepest heartbreak.
Alex Duval is the mayor of a town about to be wiped off the map. The state plans to flood the entire valley where his town sits in order to build a new reservoir, and Alex is stunned to discover the woman he once loved on the team charged with the demolition. With his world crumbling around him, Alex devises a risky plan to save his town--but he needs Eloise's help to succeed.
Alex is determined to win back the woman he thought he'd lost forever, but even their combined ingenuity may not be enough to overcome the odds against them.
Publisher: Bethany House Publishers
Release Date: February 5, 2019
OTHER BOOKS IN THE SERIES
MY REVIEW
I have enjoyed reading Elizabeth Camden's historical fiction for years now. She always manages to find an intriguing piece of history and create a captivating story surrounding it.
A Desperate Hope
is no exception.
When accountant (yay!) Eloise Drake's new project leads her to crossing paths with the last man she wants to see, Alex Duval, mayor of Duval Springs and also, the man who broke her heart, it's time to deal with the history and tension that ripples between them. But that's not the only challenge set before them. The drama unfolds with slowly building suspense to a satisfying conclusion, and though they are opposites, Eloise and Alex complement one another well through it all.
Though the third Empire State book,
A Desperate Hope
can be enjoyed on its own (I haven't yet read Book Two, but I still enjoyed this one very much). So, if you're a historical-fiction reader in the mood for mystery and romance, consider picking up this book. It's an entertaining, well-written read, for sure.
Thanks to Prism Book Tours, I received a complimentary copy of
A Desperate Hope
and the opportunity to provide an honest review. I was not required to write a positive review, and all the opinions I have expressed are my own.
ABOUT THE AUTHOR
Elizabeth Camden is the author of twelve historical novels and two historical novellas and has been honored with both the RITA Award and the Christy Award. With a master's in history and a master's in library science, she is a research librarian by day and scribbles away on her next novel by night. She lives with her husband in Florida.
GIVEAWAY
- One Grand Prize winner will receive print copies of all three books in the Empire State series: A Dangerous Legacy, A Daring Venture, and A Desperate Hope
- Two additional winners will receive a print copy of A Desperate Hope
a Rafflecopter giveaway
TOUR SCHEDULE