Gilt Hollow by Lorie Langdon
There's complicated drama aplenty when Willow Lamott's best friend, Ashton Keller

—

also an accused murderer

—returns to their small town. Mystery, suspense, danger, and of course, romance fill Langdon's story as the pair works to reestablish their friendship and discover what exactly happened all those years ago. It's a fun, intriguing, spooky-ish read.
In 27 Days by Alison Gervais
When one of her classmates commits suicide, Hadley Jamison gets the opportunity to rewind twenty-seven days and try to rewrite the future. As I read, I worried about the commentary Gervais would make regarding suicide, but in the context she creates, the message of Hadley's experience is well delivered. All in all, it's a great story of friendship.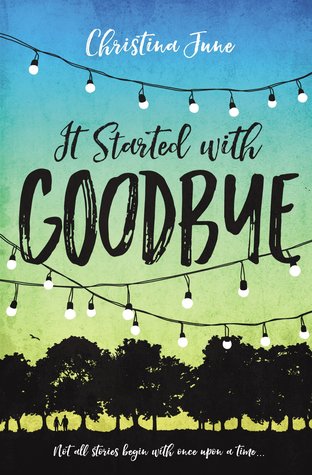 It Started With Goodbye by Christina June
In a refreshing retelling of the Cinderella fairytale, Tatum Elsea's summer looks nothing like she expected: wrongly accused of a crime, at odds with her best friend, distrusted by her father and stepmother. Everything may seem hopeless at first, but her story plays out with great humor and heart, including lessons of self-discovery, friendship, and forgiveness. It's a definite recommendation from me.
One Paris Summer by Denise Grover Swank
Against her wishes, Sophie Brooks is sent to spend a summer in Paris with her father. She'd rather devote her time to practicing piano, but it's clear she has some important growing to do in her familial relationships. With some adventure and romance, too, it's a cute story (that reminded me of Anna and the French Kiss at times), and I heartily enjoyed it when I read it.
The Thing With Feathers by McCall Hoyle
Emilie Day has spent years protecting herself from the world, thanks to her epilepsy. Now, as she begins to attend public school again, she must confront her fear. With moments of friendship, romance, and discovering that everyone has challenges to overcome, this was exactly the type of good-hearted YA I needed when I read it. I loved it.
So, what books have you enjoyed reading lately?
Thanks to Blink YA Books, I received complimentary copies of these books and the opportunity to provide an honest review. I was not required to write a positive review, and all the opinions I have expressed are my own.