In honor of the approaching Valentine's Day, I've compiled a list of covers I love that feature a couple. Their stories are sweet and romantic and oh so delightful, perfect for the holiday.
"This handsome firefighter makes a living coming to the rescue, but Gin doesn't need a man to fight her battles."
"She knows her mom can't find out—she wouldn't approve. She'd much rather Caymen hang out with the local rocker who hasn't been raised by money. But just when Xander's attention and loyalty are about to convince Caymen that being rich isn't a character flaw, she finds out that money is a much bigger part of their relationship than she'd ever realized. And that Xander's not the only one she should've been worried about."
"To cope with the stress of faking her way through this new reality, Charlie seeks late-night refuge in her backyard, talking out her problems with Braden by the fence that separates them. But their Fence Chats can't solve Charlie's biggest problem: she's falling for Braden. Hard. She knows what it means to go for the win, but if spilling her secret means losing him for good, the stakes just got too high."
"When Gia Montgomery's boyfriend, Bradley, dumps her in the parking lot of her high school prom, she has to think fast. After all, she'd been telling her friends about him for months now. This was supposed to be the night she proved he existed. So when she sees a cute guy waiting to pick up his sister, she enlists his help. The task is simple: be her fill-in boyfriend—two hours, zero commitment, a few white lies. After that, she can win back the real Bradley."
"Soon, Lily and her anonymous pen pal are exchanging full-on letters—sharing secrets, recommending bands, and opening up to each other. Lily realizes she's kind of falling for this letter writer. Only, who is he? As Lily attempts to unravel the mystery and juggle school, friends, crushes, and her crazy family, she discovers that matters of the heart can't always be spelled out…"
"When Autumn Collins finds herself accidentally locked in the library for an entire weekend, she doesn't think things could get any worse. But that's before she realizes that Dax Miller is locked in with her."
"In a flash, Maddie's life is unrecognizable. No more stressing about college scholarships. Suddenly, she's talking about renting a yacht. And being in the spotlight at school is fun…until rumors start flying, and random people ask her for loans. Now Maddie isn't sure who she can trust."
"What do you do when you've fallen for your best friend? Funny and romantic, this effervescent story about family, friendship, and finding yourself is perfect for fans of Sarah Dessen and Jenny Han."
"But to Kate's surprise, she turns out to be pretty good at the hosting gig. Then the podcast gets in a call from an anonymous guy, asking for advice about his unnamed crush. Kate is pretty sure that the caller is gorgeous Diego Martinez, and even surer that the girl in question is Alana. Kate is excited for her friend ... until Kate herself starts to develop feelings for Diego. Suddenly, Kate finds that while doling out wisdom to others may be easy, asking for help is tougher than it looks, and following your own advice is even harder."
"With her entire future riding on this movie, Lacey knows she can't afford to get sidetracked by a crush. But for the first time in her life Lacey wonders if it's true that the best stories really do happen when you go off script."
"Beau will go to the ends of the earth to keep her safe. But who's going to protect his heart from a woman who can't seem to trust again?"
"It's taken Zac months to move on after Lucy left him with no explanation. He's thrown himself into his family's farm and his restaurant business in Summer Harbor. Now Lucy's back, vulnerable, homeless, and still in love with him. She needs his help putting the pieces together, but letting her back into his life is a risk—and the stakes are high. If he follows his heart he'll win back the love of his life. But if her memory returns he'll lose her all over again."
"As the weeks wear on, Paige's feelings for Riley begin to shift into uncharted territory. Why is she suddenly noticing his arm muscles and the way his lips curl at the corners? Will she be able to deny her feelings for another Callahan brother? And will Riley let his heart heal so he can let Paige in?"
"Now that they're going to college, Wren has told Cath that she doesn't want to be roommates. Cath is on her own, completely outside of her comfort zone. She's got a surly roommate with a charming, always-around boyfriend; a fiction-writing professor who thinks fanfiction is the end of the civilized world; a handsome classmate who only wants to talk about words...and she can't stop worrying about her dad, who's loving and fragile and has never really been alone."
"While Kate plays things safe and Colton is all about big risks and grand gestures, they both get what it's like to desperately need direction in life. An unexpected project gives them both a chance to jumpstart their new lives, but old wounds and new dreams are hard to ignore. Starting over wasn't part of the plan, but could it be the best thing that's ever happened to them?"
"But instead of a quick sale and peaceful break from his hectic career, Logan finds himself helping Amelia chase her story. She's scrappy, but wounded. He's dependable, but lost. They may butt heads more than expected, but a series of leads on Maple Valley's quirky unsolved mystery is just the start of the sparks that fly in the office and in their hearts."
"Horticulturist Kit Danby has spent too much time missing home and her childhood best friend--Beckett Walker. Now she might have a shot at reclaiming both. After years of living abroad, she returns to run her family's apple orchard. She has one season to turn a profit and impress the father she barely knows. But she can't do it alone."
"Ten years ago, Bear gave up everything—his freedom and his reputation—for his mess of a family. But after years of distance and too many attempts at starting over, he finally has a new life doing noble work in Brazil . . . until his past catches up to him once again. Suddenly he finds himself back in Maple Valley, charged with the care of his missing brother's children, convinced he's out of second chances to make his life count. And yet, with every day that passes, these kids, this quirky town and the woman he never stopped missing help patch the holes in his heart. Maybe this is the fresh start he's been longing for all along. But as his newfound hope grows, so does the mystery surrounding his brother's activities—and when the threat reaches into the lives of those he loves, it's clear he can't run away this time."
"Lucy Hutton and Joshua Templeman hate each other. Not dislike. Not begrudgingly tolerate. Hate. And they have no problem displaying their feelings through a series of ritualistic passive aggressive maneuvers as they sit across from each other, executive assistants to co-CEOs of a publishing company. Lucy can't understand Joshua's joyless, uptight, meticulous approach to his job. Joshua is clearly baffled by Lucy's overly bright clothes, quirkiness, and Pollyanna attitude."
"But God has other plans for her life. While everyone considers Ruth an outcast, she is astounded to find one of the most honored men of Judah showing her favor. Long since a widower and determined to stay that way, Boaz is irresistibly drawn to the foreign woman with the haunted eyes. He tells himself he is only being kind to his Cousin Naomi's chosen daughter when he goes out of his way to protect her from harm, but his heart knows better."
"But Faith has never connected with anyone like she has with Noah, and no matter how tight a stranglehold her mother enforces to keep them apart, Faith will not give him up. Behind the curtain, Faith's love for Noah continues to grow . . . as does her determination to hold on to her dreams—and him—no matter how high the cost."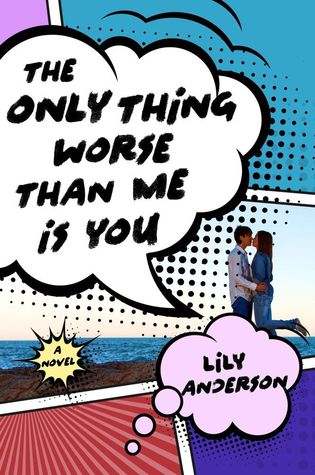 The Only Thing Worse Than Me Is You by Lily Anderson
"Trixie will do anything to get her name ranked over Ben's, including give up sleep and comic books--well, maybe not comic books--but definitely sleep. After all, the war of Watson v. West is as vicious as the Doctor v. Daleks and Browncoats v. Alliance combined, and it goes all the way back to the infamous monkey bars incident in the first grade. Over a decade later, it's time to declare a champion once and for all."
"As she fights a growing attraction to this handsome man crushing her dreams, Abigail is inspired to string the hearts in her store, sparking a citywide infatuation with the artsy trend. But when a new batch of hearts reaches the Volunteers, it appears something tragic has happened to the couple. Will uncovering their story confirm Abigail's doubts about love, or could it rescue her dreams . . . and her heart?"
"Amid the beauty of Trevor's farm and the comfort of a paintbrush, Evelyn starts to reclaim the dreams she sacrificed to become the perfect politician's wife. And as creativity inspires them both, Whit begins to see the girl he fell in love with before his friend―and his own mistakes―stole his chance. Possibilities for a new beginning emerge, but long-kept secrets threaten to ruin everything. After so much time, is a change of heart too much to hope for?"
"As World War II draws to a close, nurse Christine falls in love with roguish Amish boy, Eli, and must choose between a new, uncertain life in the Amish faith or face the judgment of a conservative post-war American society for her past mistakes."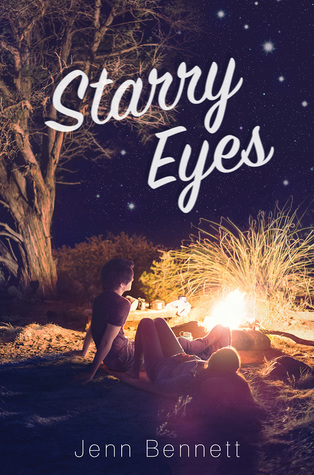 Starry Eyes by Jenn Bennett
"In this romantic dramedy from the author of Alex, Approximately, a teen girl's way-too-ordinary life is driven off the beaten path when she's abandoned in the wilderness with her worst adversary—the boy who broke her heart."
"Quirks of timing feature in this romantic novel about family connections, second chances, and first loves. Set over a twenty-four-hour-period, Hadley and Oliver find that true love can be unexpected."
"Caught between new love and old grudges, Darek must decide if he can set aside the past for a future with Ivy—a future more and more at risk as an approaching wildfire threatens to wipe out the Christiansen resort and Deep Haven itself."
"Eden Christiansen never imagined her role as her younger brother Owen's cheerleader would keep her on the sidelines of her own life. Sure, it feels good to be needed, but looking after the reckless NHL rookie leaves little time for Eden to focus on her own career. She dreamed of making a name for herself as a reporter, but is stuck writing obits―and starting to fear she doesn't have the chops to land a major story. If only someone would step up to mentor Owen . . . but she knows better than to expect help from team veteran and bad-boy enforcer Jace Jacobsen."
"Hawaii was the last place Grace Christiansen ever imagined she'd vacation, much less fall in love. But when her family surprises her with a cooking retreat in paradise, she is pulled―or maybe yanked―away from her predictable, safe life and thrown headfirst into the adventure of a lifetime."
"After a failed dig in Honduras, aspiring archaeologist Casper Christiansen heads home to Minnesota to face his unresolved feelings for Raina Beaumont, the woman of his dreams. But when he arrives unannounced on her doorstep, he receives the shock of a lifetime: Raina is pregnant with someone else's baby."
"Mortified after her year abroad is cut short, Amelia Christiansen returns to Deep Haven, certain she isn't brave enough to embrace the adventures she's dreamed of. The last thing she expects is for the man who broke her heart to cross the Atlantic and beg forgiveness."
"Owen Christiansen has been in a downward spiral since an injury ended his NHL career. But a job on an Alaskan crabbing boat offers a fresh start . . . maybe even a shot at romance with Elise 'Scotty' McFlynn, the captain's daughter."
"But just when Meg begins to realize that Bo might be the one thing on the ranch worth keeping, their fragile bond is viciously broken by a force from Meg's past. Can their love–and their belief that God can work through every circumstance–survive?"
"Five and a half years pass. Celia's buried her dreams so that she can afford to raise her daughter. Ty's achieved all of his goals. Or thought he had, until he looks again into the eyes of the woman he couldn't forget and into the face of the child he never knew he had."
"Though Jake and Lyndie have grown into very different adults, the bond that existed during their childhood still ties them together. Against Jake's will, Lyndie's sparkling, optimistic personality begins to tear down the walls he's built around his heart. A glimmer of the hope he'd thought he'd lost returns, but fears and regrets still plague him. Will Jake ever be able to love Lyndie like she deserves, or is his heart too shattered to mend?"
"Gray Fowler, star NFL tight end, is being pursued by a stalker, so his team hires a protection agency to keep Gray under the watch of a bodyguard at all times. When Gray meets Dru Porter, an agent assigned to him, he's indignant. How can an attractive young female half his size possibly protect him?"
What fictional couples do you love?